By Haylie Campbell October 04 2023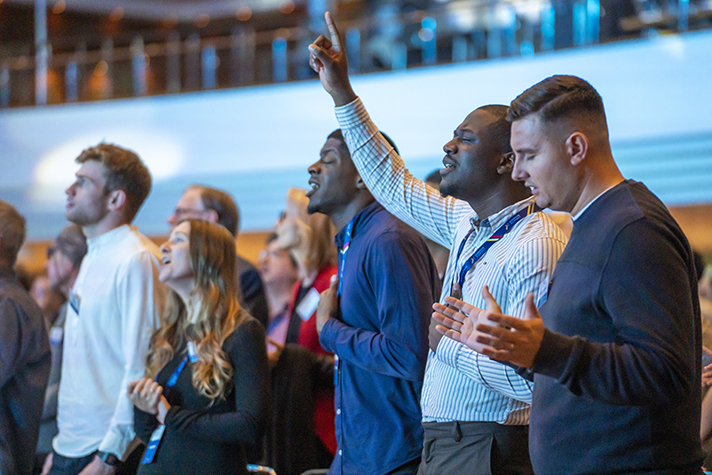 Over 550 church leaders gathered in Düsseldorf, Germany, last October for an Evangelism Summit hosted by the Billy Graham Evangelistic Association to unify, mobilise, and spur one another on in spreading the Gospel. As a result of those efforts, local believers are coming together a year later to invite non-Christian friends and family to a Gospel outreach in nearby Essen.
In the mid-15th century, Germany printed the world's first mass-produced book: a Gutenberg Bible. Not long after, the Protestant Reformation swept across the country and the rest of Europe.
Today, however, many Germans have wandered far from God's Word, and church attendance has steadily declined. According to recent reports, about one-third of Germans identify as non-religious.
On Oct. 7, Franklin Graham will be in the western city of Essen—one of the country's largest cities—to share about the unchanging love of God, who offers hope in the darkness and peace in the chaos.
Christians around the region are praying ahead of the Festival of Hope that the Grugahalle arena will be filled that night with those who need to hear this life-changing message.
German publisher Norman Rentrop—who came to faith in Jesus Christ during a 1993 Billy Graham Crusade—invites others to experience the Gospel in Essen this month: 
Thomas Falk, who is working with churches in preparation for the Festival, is concerned that many Christians in Germany don't have a sense of urgency and passion for sharing the message of Jesus Christ with the lost.
"They are happy and satisfied to [just] attend the Sunday services."
Festival Director Dillard Boseman prays that the event will help churches bring evangelism "back into focus" in the lives of their members.
Leading up to the Festival, the Billy Graham Evangelistic Association has partnered with local churches to host prayer gatherings, youth events, and the Christian Life and Witness Course (CLWC), which equips local believers to grow in their faith and boldly share it with others.
Boseman hopes the Festival—a free, family-friendly event with music by Newsboys and Veronika Lohmer & Band—will awaken more Christians to their calling to share the Gospel with those around them.
Falk is also excited to witness the power of God's Word piercing hearts and drawing people to their Lord and Savior.
"I look forward to the message and the moment God changes hundreds of hearts for eternity when they receive Christ," he said.
How you can pray for the upcoming Festival of Hope:
Pray for unity among German Christians to reach their communities for Jesus Christ.
Pray for God to grow the faith of those attending CLWC training, youth gatherings, and prayer meetings.
Pray that many who attend will surrender their lives to Jesus Christ.